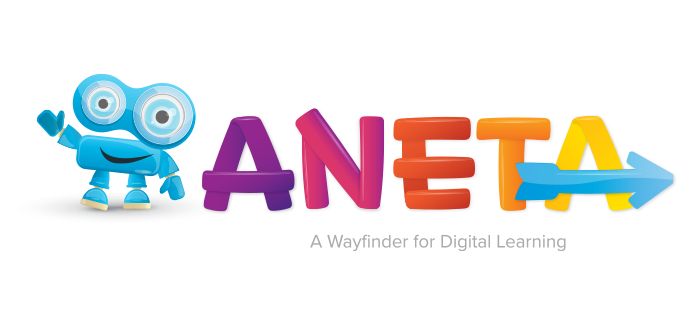 Independence for kids.
Peace of mind for grown-ups.
Aneta helps kids get to specific websites and apps in the order and at the times that parents and teachers want for them - all on their own.
Why Parents Love Aneta
Aneta allows kids to independently follow a digital journey you or a trusted source have approved.
1. Kids no longer need your help locating a link or logging in
Aneta's picture-based maps makes it fun and easy for even pre-literate children to independently navigate scheduled digital journeys.
. Parents love fewer interruptions to their day. That means more time to concentrate on work, more time to do whatever it is you need or want to do!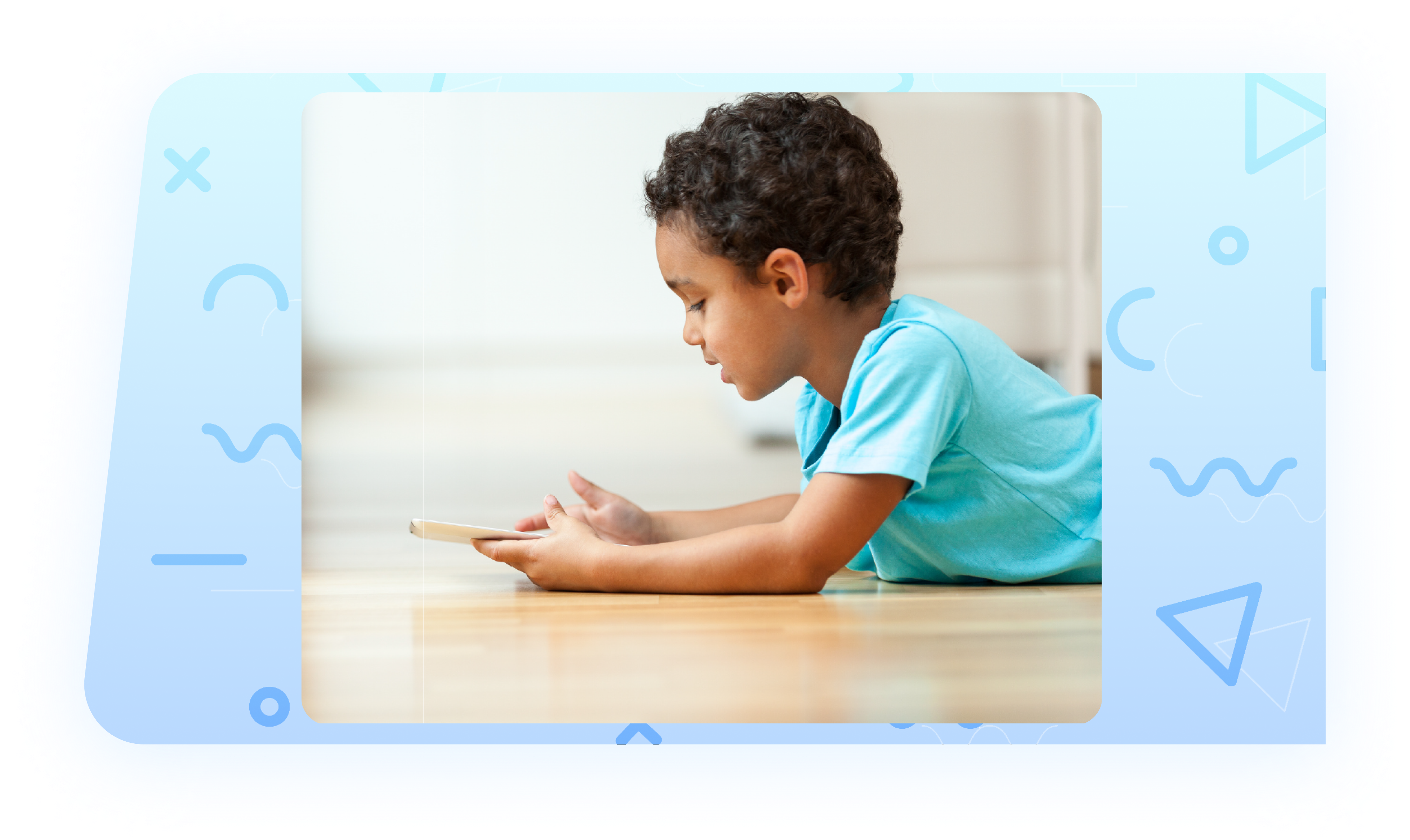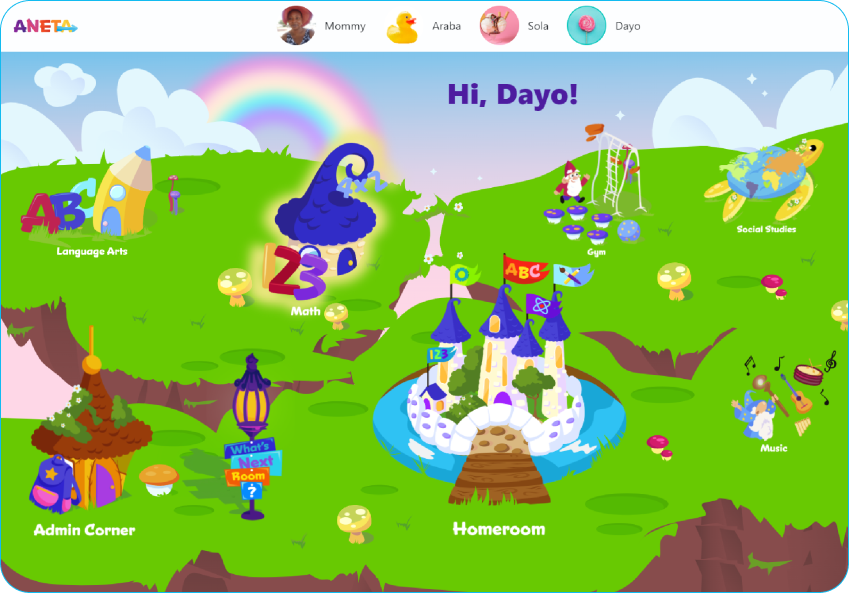 2. Kids can get to the right place at the right time - all on their own.
Aneta enables kids to follow a prescribed digital journey - what to do, when to do it, and how long to do it. It tells the child when time is up and prompts them to move on to the next thing.
. Parents love not having to keep track of time to know when to transition kids to other activities. Plus, kids actually listen when Aneta says time's up!
3. All digital resources are organized in one place for quick and easy anytime access.
Aneta's Homeroom stores all your links and apps, so you don't lose track of the good stuff. No more scrambling to locate links in emails and text messages.
. Parents love having favorite links on hand whenever they need it. Impromptu work calls, longer than expected waits at the doctor's office... Aneta is there for you.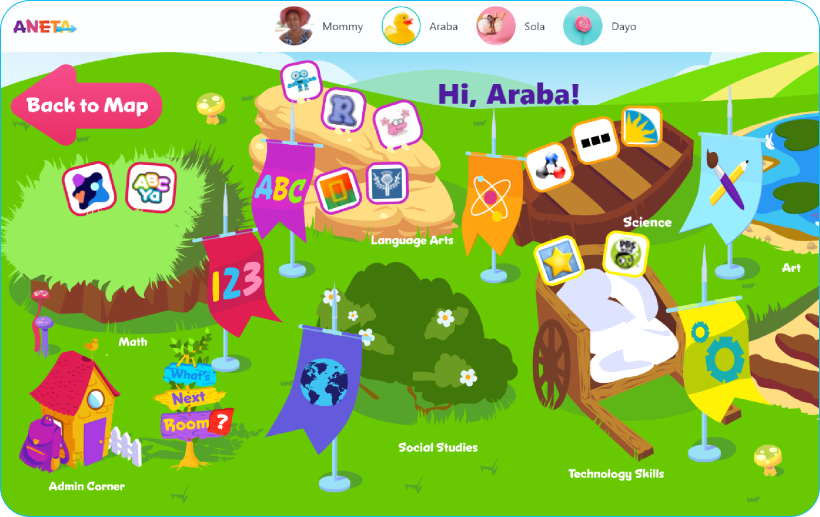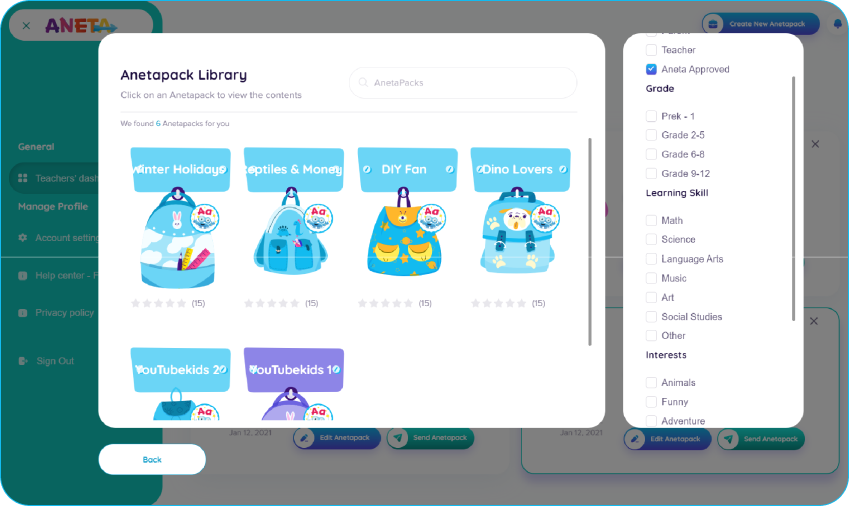 4. Easily access and apply new digital content that you feel good about.
Choose from the ever-growing library of Anetapacks, which are pre-created digital journeys, curated by trusted educators or shared with you by your child's teachers, your family and friends.
. Parents love how Aneta gives access to the collective wisdom of innovative education leaders and other parents. It's no longer overwhelming to know what is good, where to find it, and how to put them into a digital journey - it's a new kind of peace of mind.
How it works
Get grownup-directed, kid-navigable digital journeys in just a few steps.
1

Select a map template for your child

Watch your child's face light up with a theme that matches their personality. You can switch the map theme at any time - and the Aneta map template library is constantly growing.
2

Enter a Schedule or Choose a Ready-Made Anetapack

Filter by grade, learning skill and interest to find a pre-created digital journey that's the right fit for your child and for the moment.

Or, build your own digital journey from scratch using the simple calendar interface.
3

Build up the Homeroom

Aneta gathers all the helpful digital resources that a child may use in their Homeroom.


Scholars can navigate their digital resources organized into categories that are identified by intuitive images. Think of it as a graphical bookmarking space with the bonus of one-click access.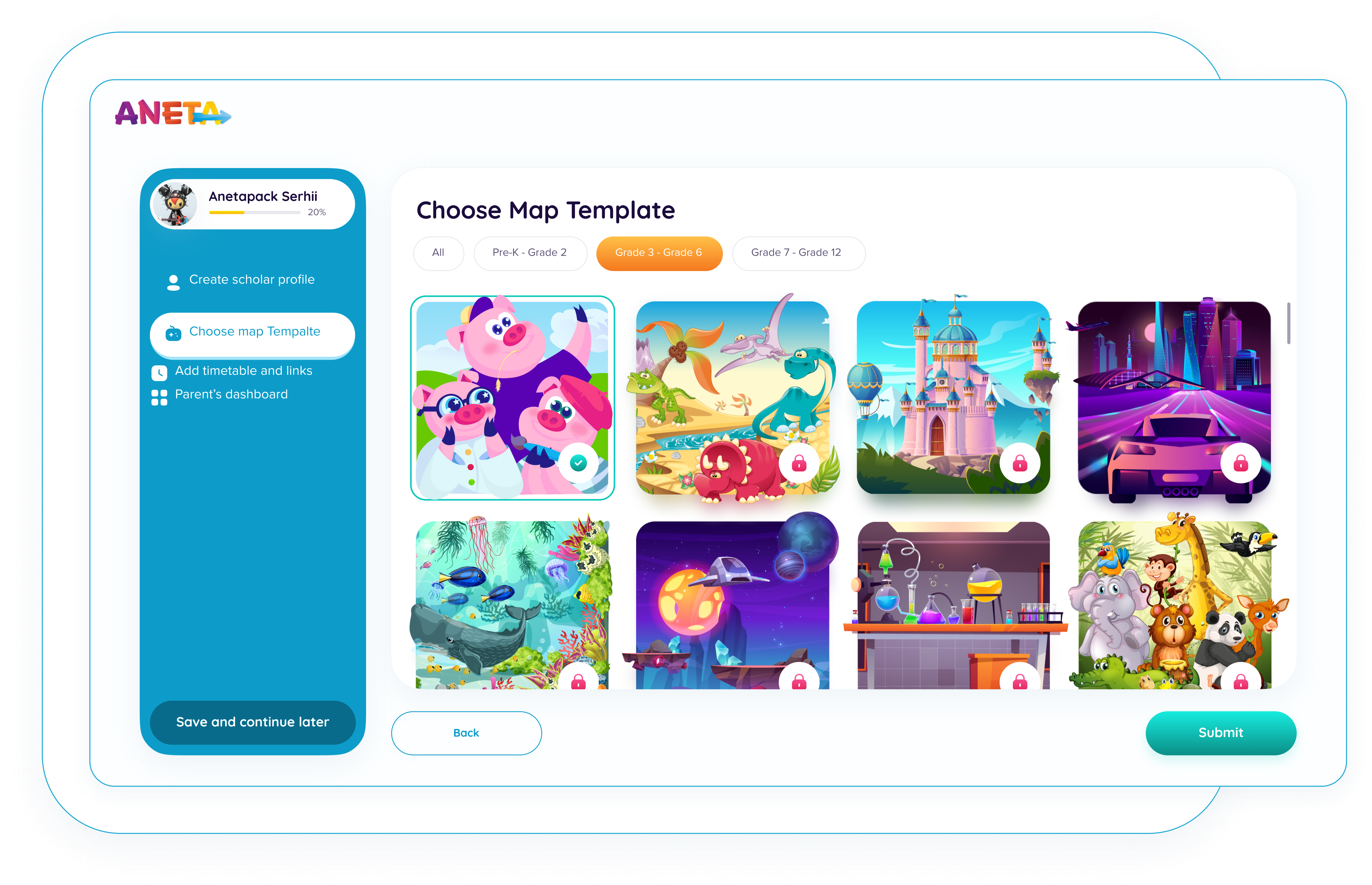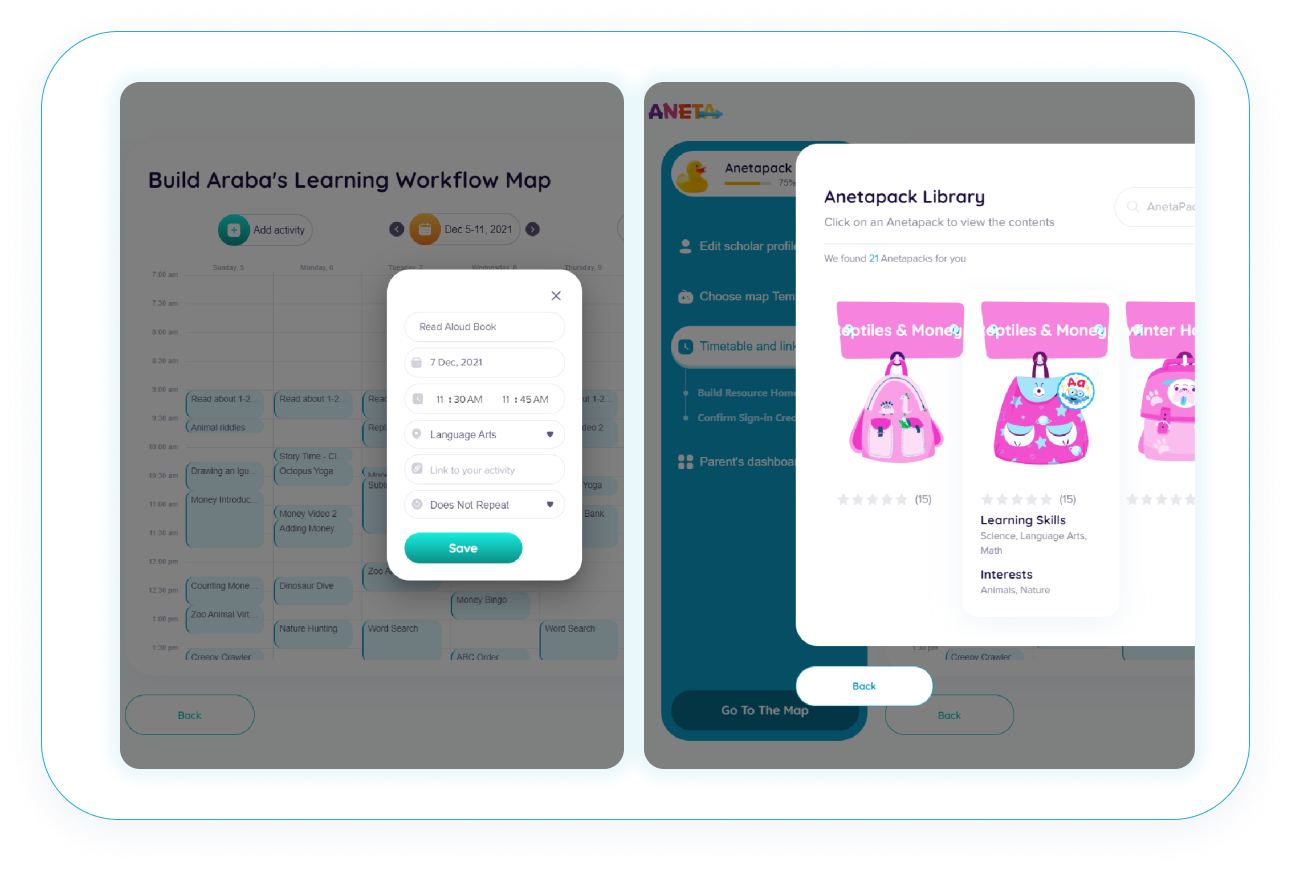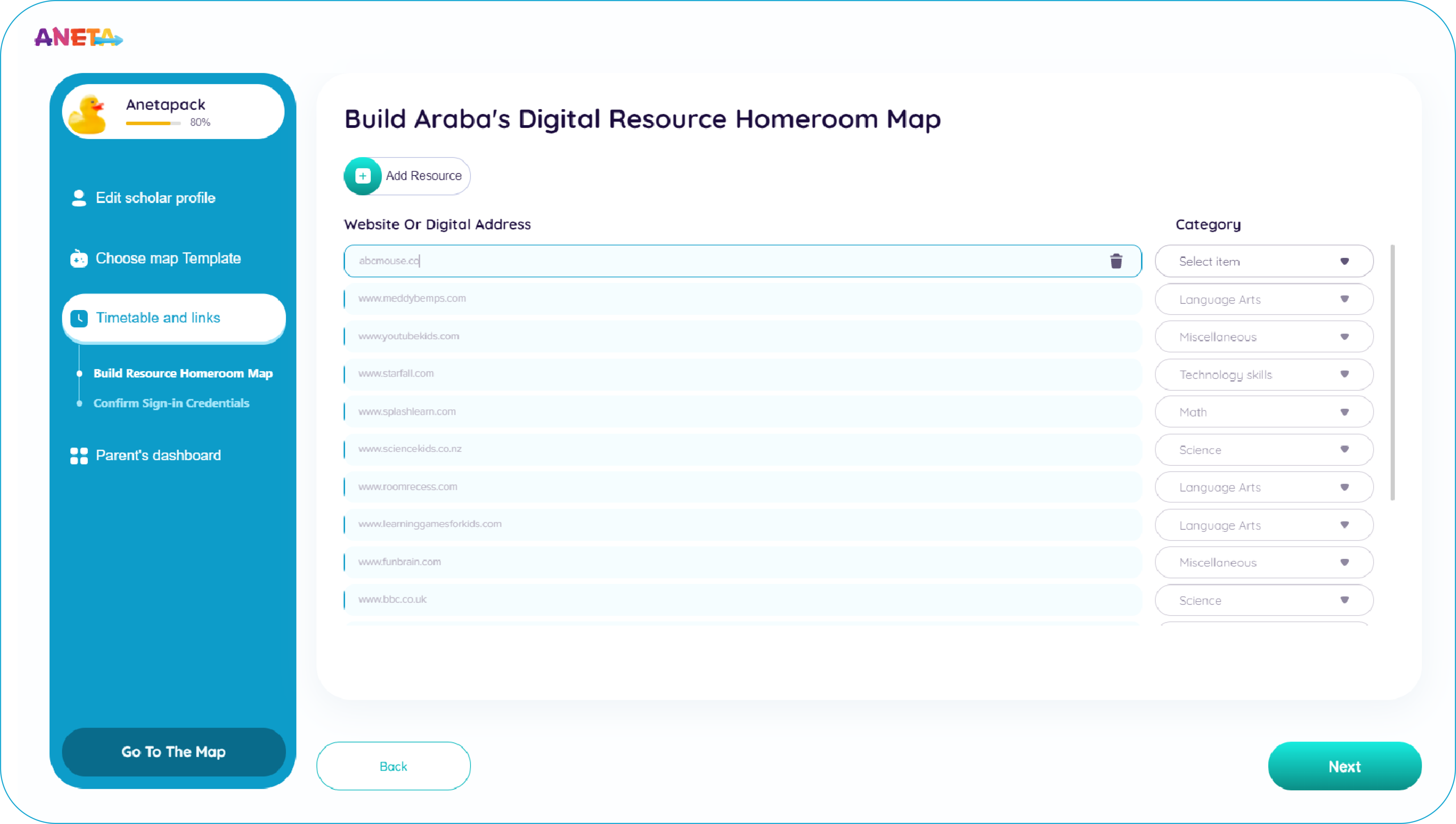 Independence for kids. Peace of mind for grown-ups.
Are you ready?