Aneta helps parents and children find their way through digital education and edutainment resources.
Aneta is a wayfinder for kids' online activities
Wayfinders are all around us – the simple images that orient and help us move around malls, airports and more. Without them we waste time and have a poor experience.
The internet is a very complex space for families to navigate. Aneta makes it easy.
What Aneta Does
Aneta empowers kids online with immediate answers to 2 questions – no parent/caregiver needed in the moment.
1. How do I get to what I should be doing?
Aneta turns the internet into an interactive map. Young or old can independently navigate through a 'playlist' of digital activities.
At the scheduled time, an intuitive image on the map glows. With one click, the scholar is at the right digital location they need - no web addresses or credentials to enter.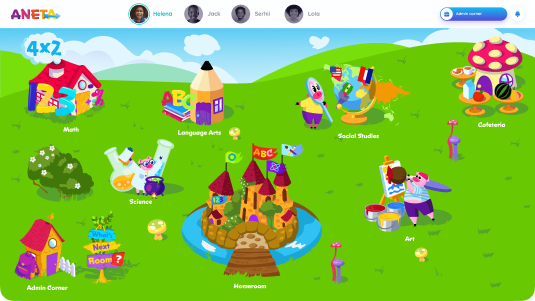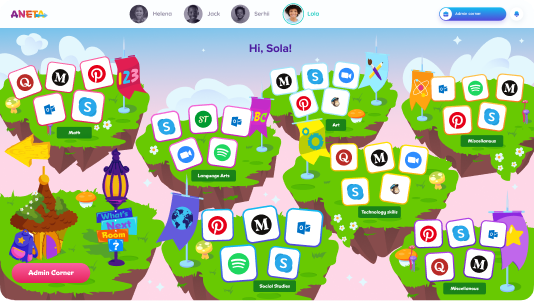 2. What could I be doing?
Aneta gathers all the helpful digital resources that a child may use in a Homeroom.
Scholars can navigate their digital resources organized into categories identified by intuitive images. Think of it as graphical bookmarks with the bonus of one click access.
How Aneta Helps Parents
No. It's not just you. It's a struggle to make kids' internet use productive, safe and a pleasant experience. You can't be physically present all the time. How can you guide your kids through the digital space as if you were, or discover new helpful resources for them to use?
1. It saves you from repetitive predictable navigation tasks
You can schedule your DVR, your thermostat and possibly your toaster. You should be able to schedule a 'playlist' of activities you want your child to do online.
2. It helps you find new useful digital resources
Anetapacks are like well-stocked backpacks. Each contains a curated schedule of activities and digital resources you can use for your kids.
You don't need to reinvent the wheel. You can receive and share Anetapacks with other families. Anetapack for the distance learning schedule. Check. Anetapack for first grader on a rainy Saturday morning. Check.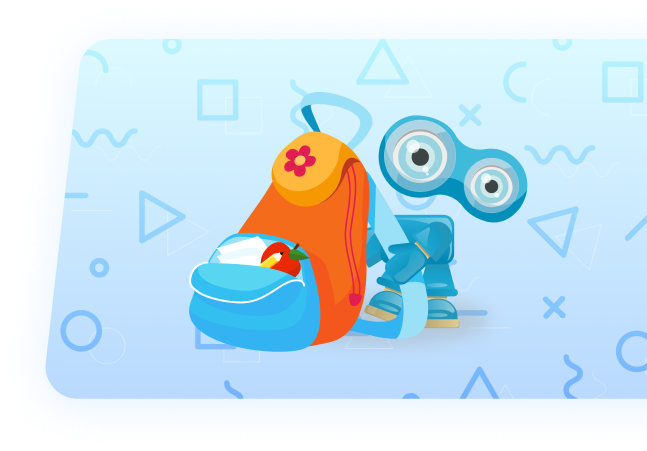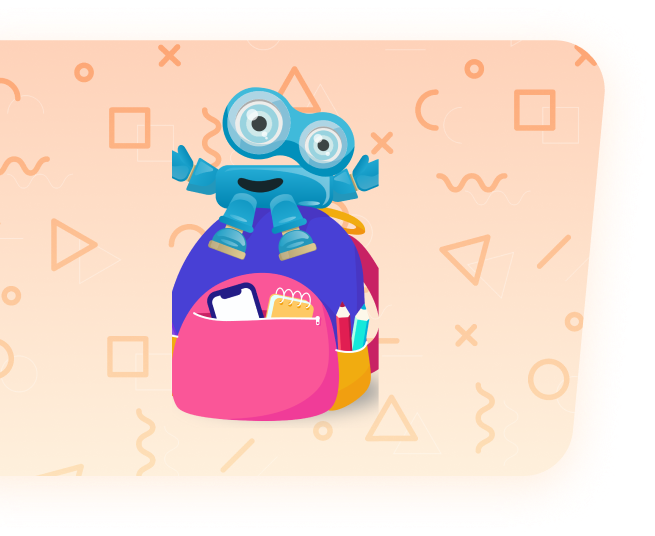 Aneta Grants a Parent's Wishlist

Graphics based/low-literacy friendly Interface
Empower the youngest scholars to be independent
Make literate users more efficient

Automated workflow support
Free parents from repetitive predictable tasks
Use automation to help scholars find their way to what they should be doing next

Organized repository of Digital Resources
A single place to store and organize all the digital resources a scholar uses
One-click access to a scholar's digital resources

Controlled by Families
Manage the universe of a scholar's digital activities
Flexibility to extend beyond school-based timetables and resources
How Aneta Helps Big Kids & Teens
But it's only a few seconds to open your calendar and click the link from the right invite you say? Well, multiply a few seconds by a dozen times a day and soon you see hours of your life whittled away for no reason.
1. Build your schedule ahead of time and cruise through your day
A picture is worth a thousand words even when you can read.
Depict your schedule as a map that reflects who you are and let Aneta get where you want to be, when you want to be there, with one click. It is a calendar, an alarm clock and your personal flair all in one.
2. Organize and manage all your favorite educational digital resources from one location
Fill your Homeroom with your favorite educational digital resources and access them with one click. Never again struggle to remember a website address or log in credentials.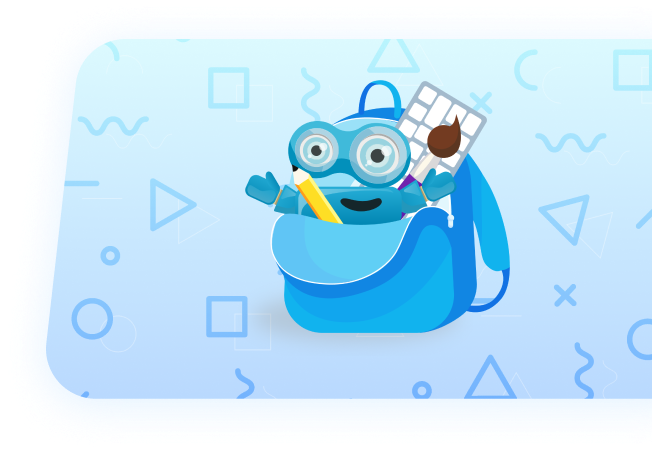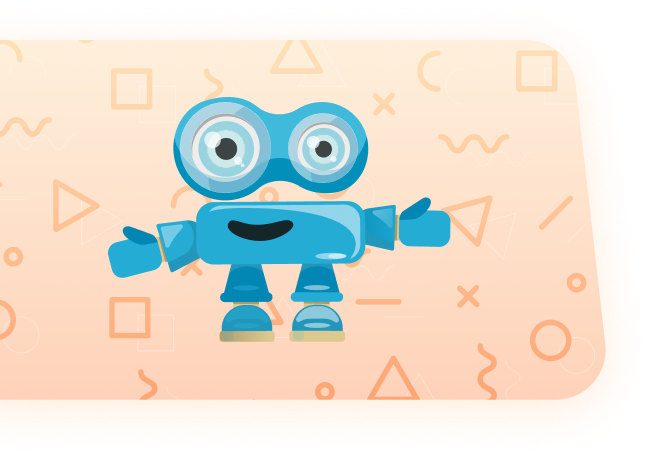 How Aneta Helps Teachers
You have enough on your plate. Becoming IT support has now been added to the list. Parents and caregivers may not be able to get students to online classes/ assignments. This forces you to limit your use of helpful digital resources so that no one gets left behind.
Help your students' families help themselves
Build the distance learning schedule for your class and share as an Anetapack with all the families.
Aneta will do the prompting for a scholar's learning workflow in the moment and send them right where you want them, when you want them.
It's' like simultaneously ringing a hall bell in each of your student's homes.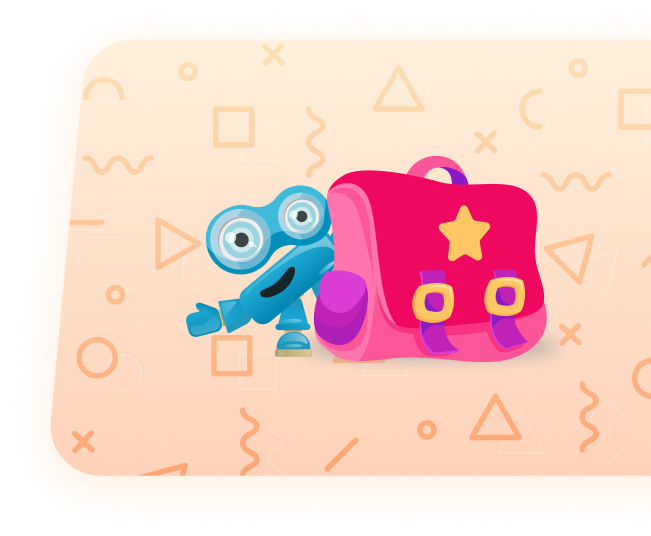 How it Works
1
Choose a Map Theme
Select a map theme that will delight your scholar from the library of templates.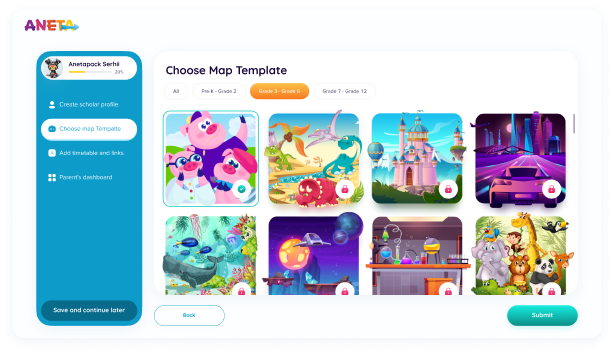 2
Enter a Schedule of Activities
Choose a ready-made Anetapack or build your own using a calendar invite interface.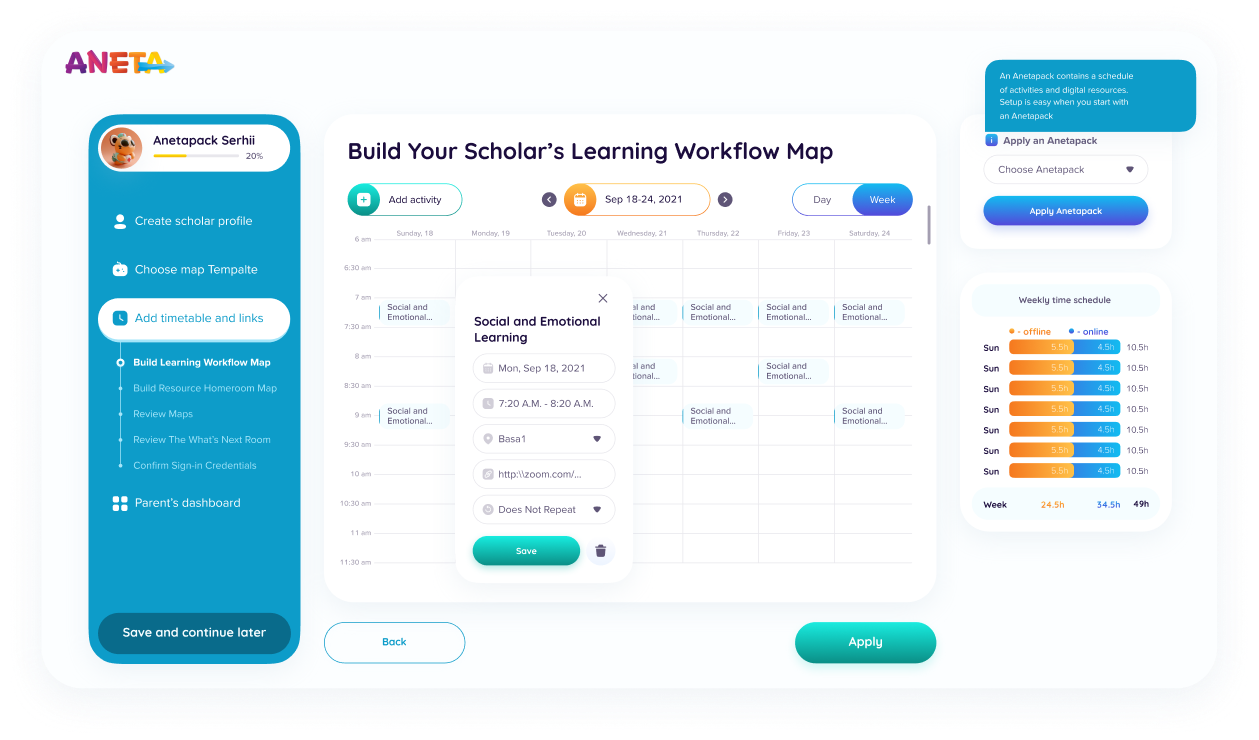 3
Enter Digital Addresses into the Homeroom
Like creating bookmarks on a webpage or putting favorite apps on a home page.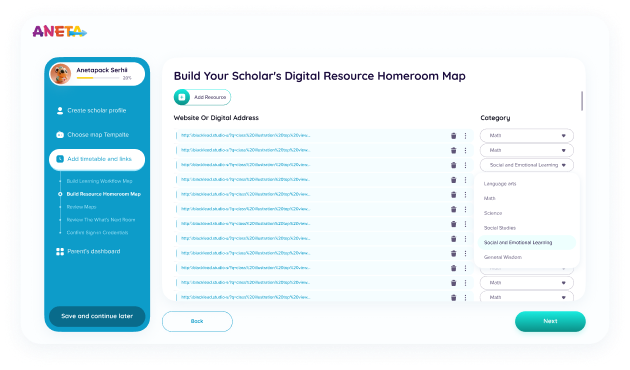 4
Take back your day
Aneta gives independence to young non literate scholars, a major efficiency boost to big kids & teens, and peace of mind to parents.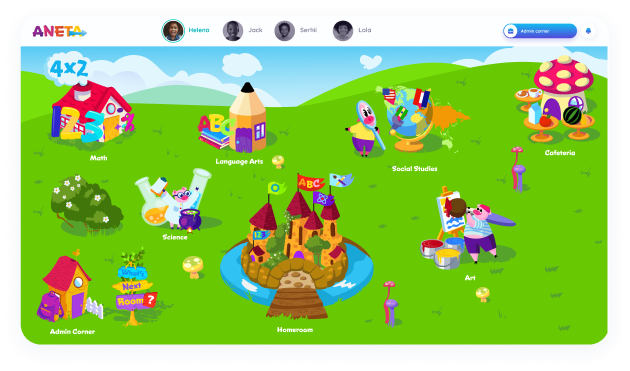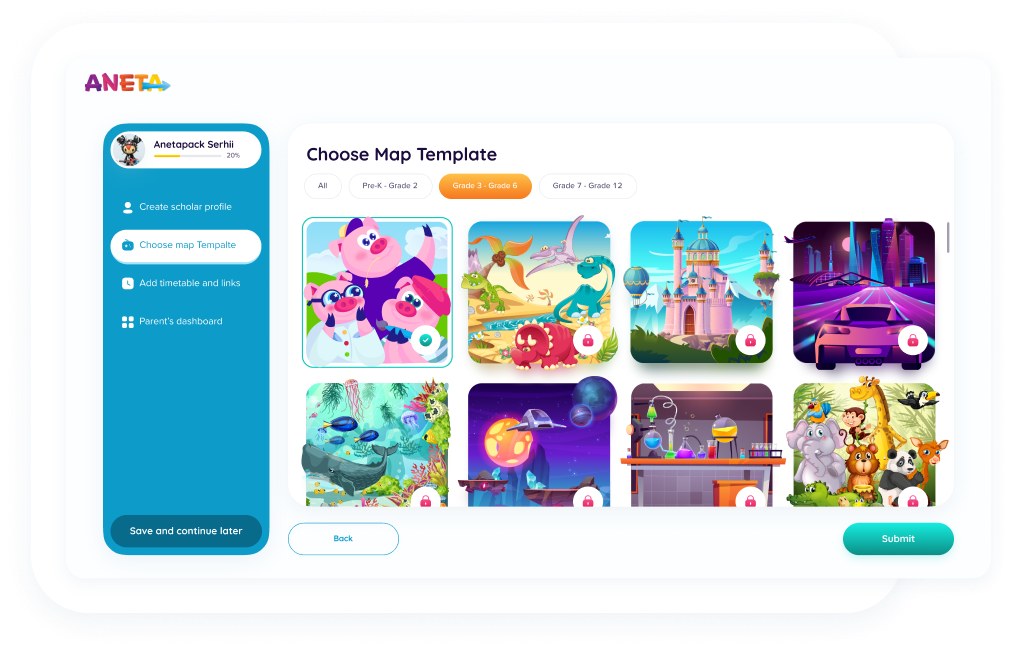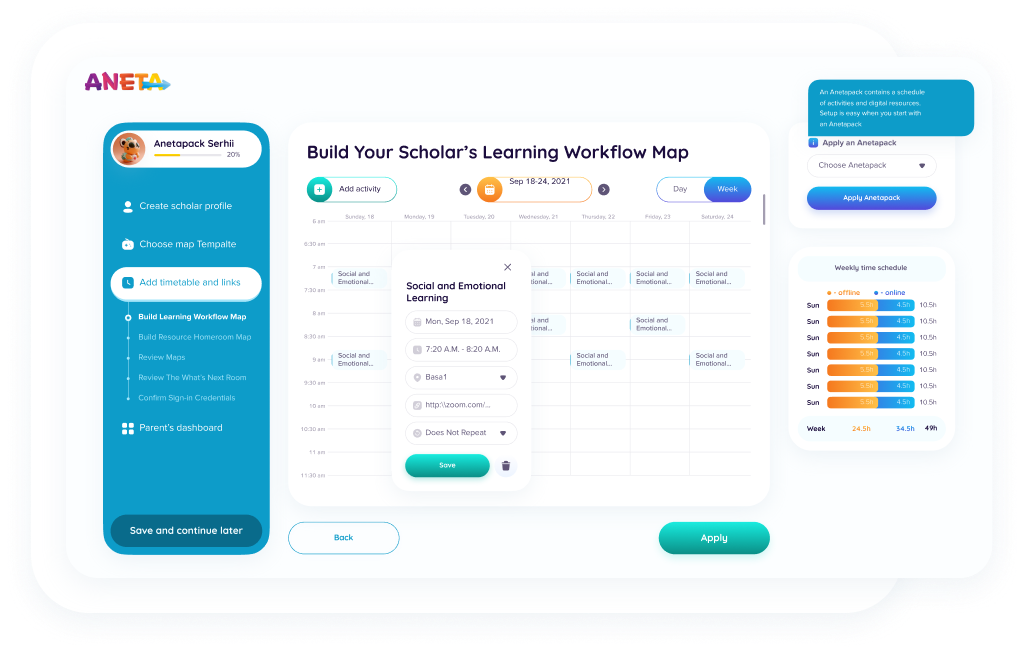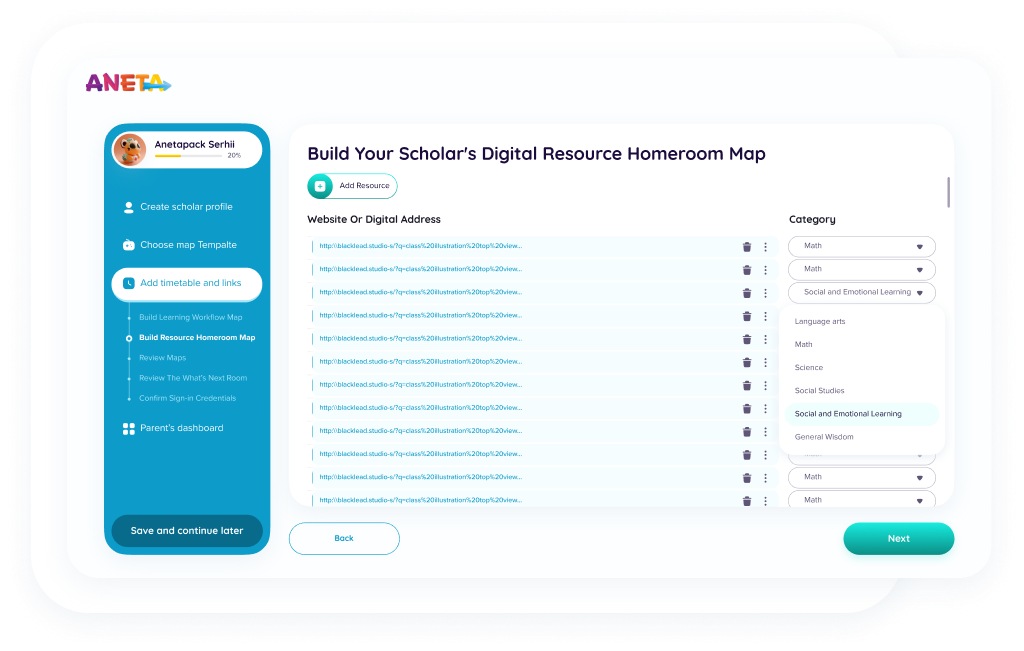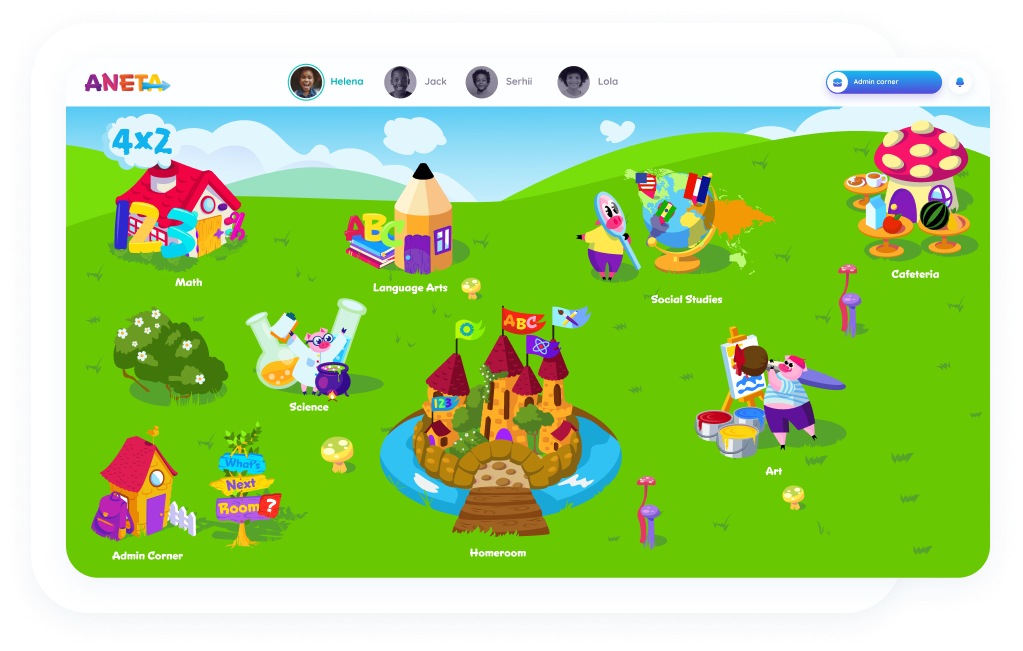 One Aneta Account for your family*
Try Aneta Free For 30 days Monthly Plan
$ 6.99 Annual Plan
$ 59.99
28% discount form Monthly plan
A Teacher Account is Free.
Forever!
A Teacher account only allows the creation and sharing of Anetapacks. A Parent account is required for scholars to use Aneta.
Learn More
About
AnetaEd.com, Inc was founded with the vision to be the most useful digital tool for parenting. It comes out of the lived experience of a mother who has struggled to see her kids have fun but productive and safe use of the internet. Between the futile attempts to be present every time the kids were online, she realized there had to be an easier way.
Aneta means easy.
Aneta helps families to get the most out of the internet for our kids while removing the burden of doing so.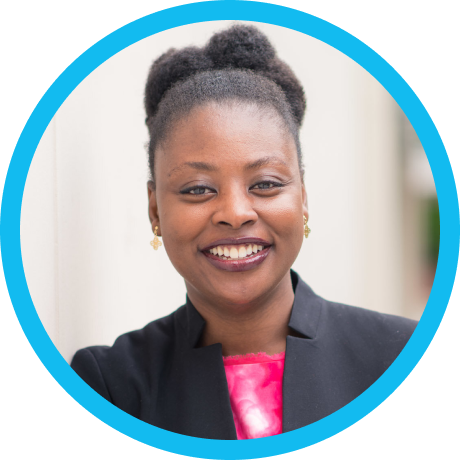 "Aneta extends parents' reach to allow them to manage kids' digital activities without having to do it in the moment or even be physically present.
It is peace of mind for the parent. Independence for the child."
Afua Branoah Banful, PhD.
Founder and CEO, AnetaEd.com, Inc.